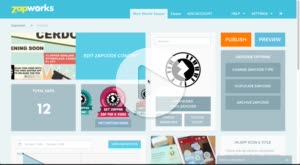 Changing the zapcode color
The color of a zapcode can be customized from the zapcode overview page.
To do so, click the 'Choose Color' button beneath the zapcode preview, select a color and hit apply.
You can also enter a hexadecimal color value into the text box below the selection of colors. Make sure to select a contrasting color to white otherwise the code may not track as well.
Remember to update your tracking image with your new zapcode once you change the color.